Triple Double Strike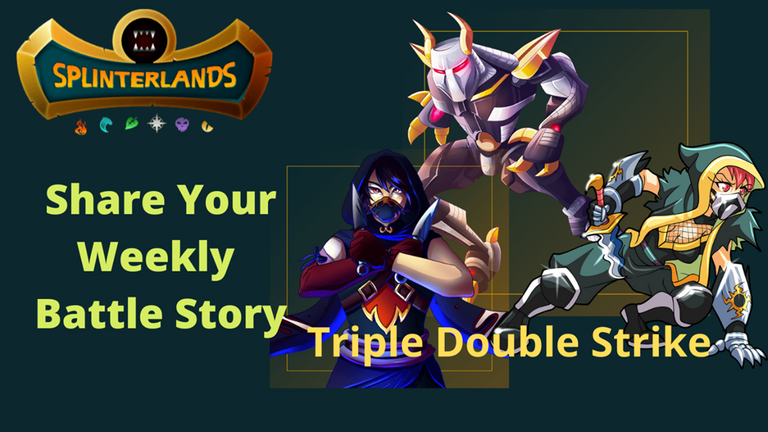 Canva
A pleasant Monday to all gamers and fans of Splinterlands!
Too many new things are happening in our favorite blockchain-based game. I myself have difficulty catching up with all these updates from Riftwatchers to Genesis League Sports and more.
Experiencing New Things Last Season
The last season I tried to come out of my comfort zone. I tried testing the higher leagues until I reached Gold III.
Entering Gold III, my winning rate dropped to fifty-fifty. I realized that my cards are not ready yet for a more competitive fight. I decided to settle down for a while in Silver I to gain some familiarity with how the game changes as one climb up into the higher leagues.
The last season is also my first time joining the Guild. @gadrian posted an invitation last 06 September to join the Dark Assassins. I am proud to become a member of this powerful Guild! Five slots are still available.
Knowing nothing about how Brawl works, I entered the Battle Arena just to have a first-hand experience. Result? Perfect score! Out of 9 battles, I lost in all of them.
Today, the second Brawl started. This time, I selected the lower league, the 3-2-1-1 level, the league for the Bronze players. Though my performance in the Silver League in the regular battle is somehow good, Brawl is a different battlefield due to the presence of power cards – the Gladiators!
Facing Gladiators on the Battlefield
Going down to the Bronze League, I encountered again two Gladiators in my first three battles. It was my first time defeating a neutral Gladius warrior – Tatiana Blayde!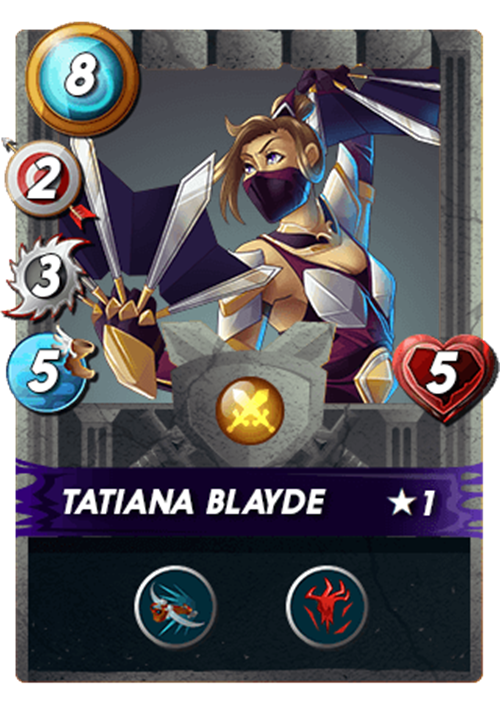 So far, in my first three fights this time, I got two wins. That to me is enough for consolation after suffering nine straight defeats during the last Brawl. Supposed to be, if I did not commit a blunder the other one will also end in victory. It just so happened that I did not read the rule set carefully that no healer is allowed in the game. It was a mistake on my part to pick up Crustacean King. Another blunder is that I failed to use my own Gladiator card – Isgald Vorst!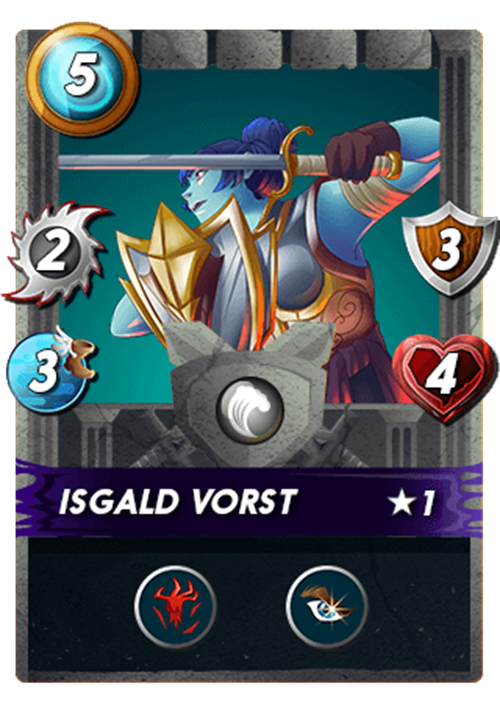 One last thing that I tried last season is that I also joined two Tournaments – The PKM Silver League Wild Tournament and TH Gaming Bronze Tournament! These events will start on 27 and 28 September respectively.
Triple Double Strike
My battle story for this week is about three warriors with Double Strike ability. They are Carnage Titan and Dhampir Infiltrator from the Dragon camp and Silvershield Assassin from the Life camp.
Statistics
In this battle, I utilize a level 2 Carnage Titan. This card is worth USD 68.00. Upgrading it to level three, you have to spend twice that amount. As a result, it will obtain Shield Ability that will reduce the damage both from Melee and Ranged enemies. To enjoy the maximum potential of this dragon warrior, you need to spend USD 272.00 if you want to own it. The card will have a total of 8 Melee attacks due to its Double Strike ability. Very few can survive such power!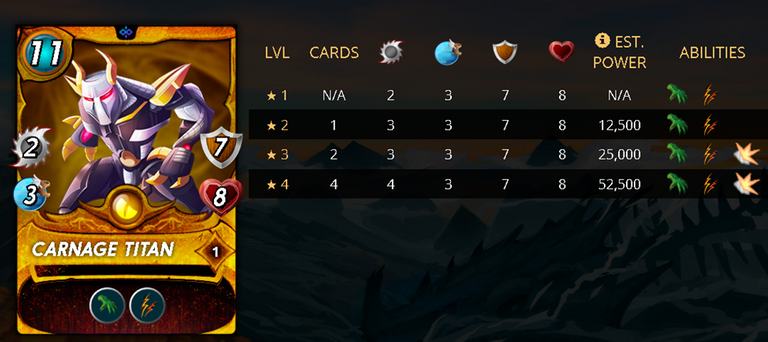 Unlike Carnage Titan, Dhampir Infiltrator is very cheap now. Combining 40 cards just cost USD 1.08 and you can have a level 5 Double Striker dragon warrior with 2 Melee attacks. Under the summoning power of Daria Dragonscale, a total of 6 Melee attacks will be very destructive!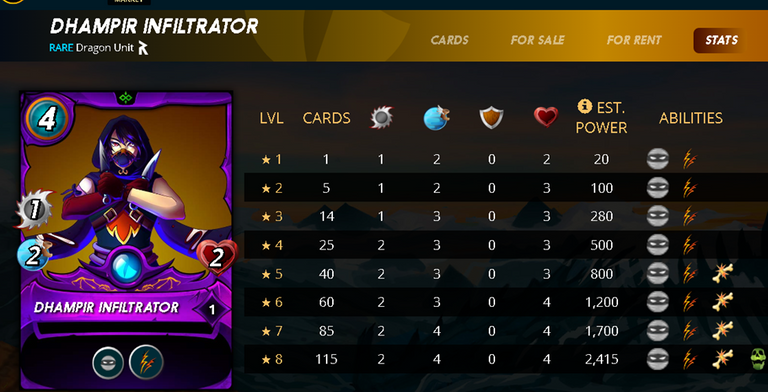 As for Silvershield Assassin, the lowest market price of a level 3 gold card is now USD 42.50. If you want him to obtain Poison ability, you need USD 170.00 for that.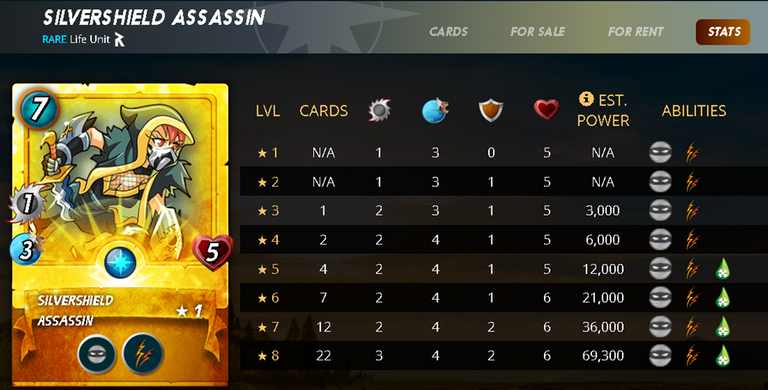 Battle Lineup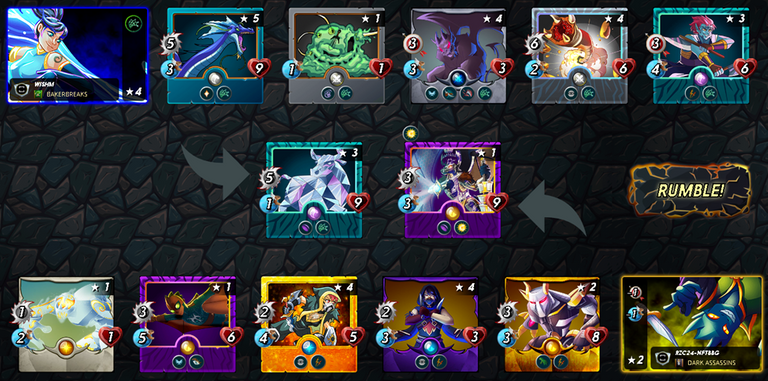 Ruleset:
Unprotected: Monsters do not have any armor and do not get armor from Abilities or Summoner Buffs.
Lost Magic: Monsters with magic attacks may not be used in battles.
Mana Cap: 44
An ideal mana cap where I can deploy both average and high-mana cards.
Tank: Robo-Dragon Knight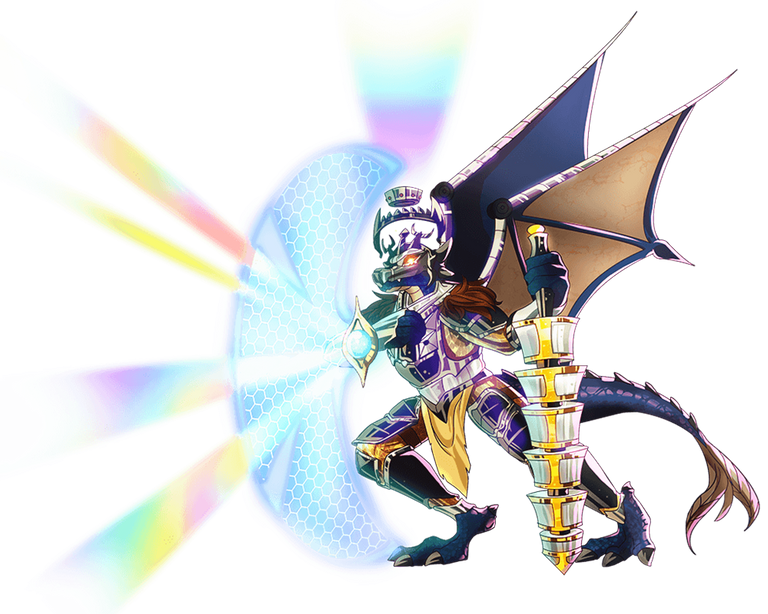 Robo-Dragon Knight is my preferred tank among many powerful dragon warriors due to its Divine Shield and Void abilities. As such, this powerful monster will not be affected by the first attack. His Void ability reduces damage from Magic attacks.
Second Position: Carnage Titan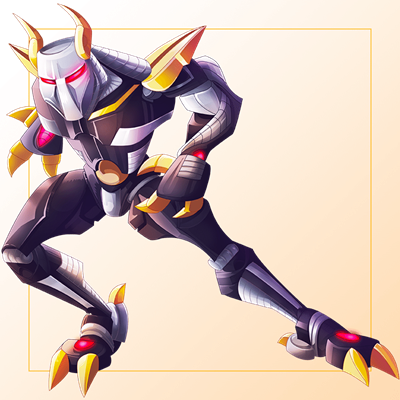 Carnage Titan is the first Double Striker! In addition to his Double Strike ability, he also has a Reach ability that makes him most suitable for the second position. Moreover, both the shield and the health of this monster are high and that is why he is the most appropriate choice in a high mana battle.
Third Position: Dhampir Infiltrator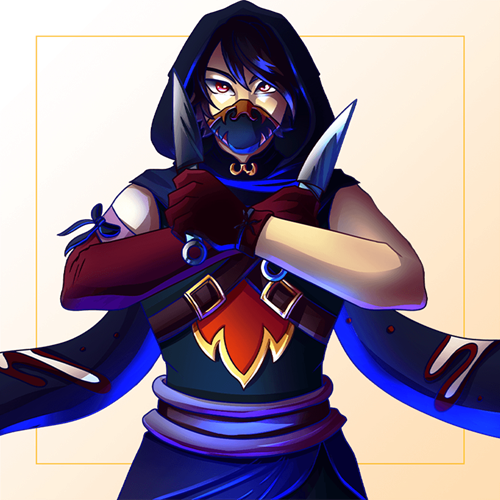 Dhampir Infiltrator is our second Double Striker! This warrior possesses also a Sneak ability that made him a serious threat to enemies positioned at the back. The only setback I see in this dragon warrior is his low health.
Fourth Position: Silvershield Assassin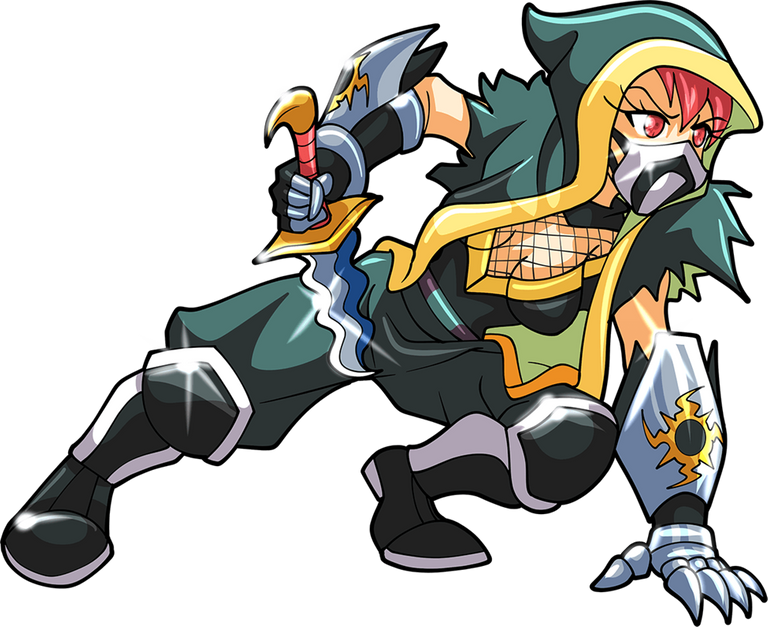 The third and last Double Striker in this powerful team is Silvershield Assassin. He too possessed the same ability as Dhampir Infiltrator. The good thing with this warrior is his health is average, not so low and not so high. Both he and Dhampir are on a mission to secure victory by destroying the enemy's camp from the rear.
Fifth Position: Dragon Jumper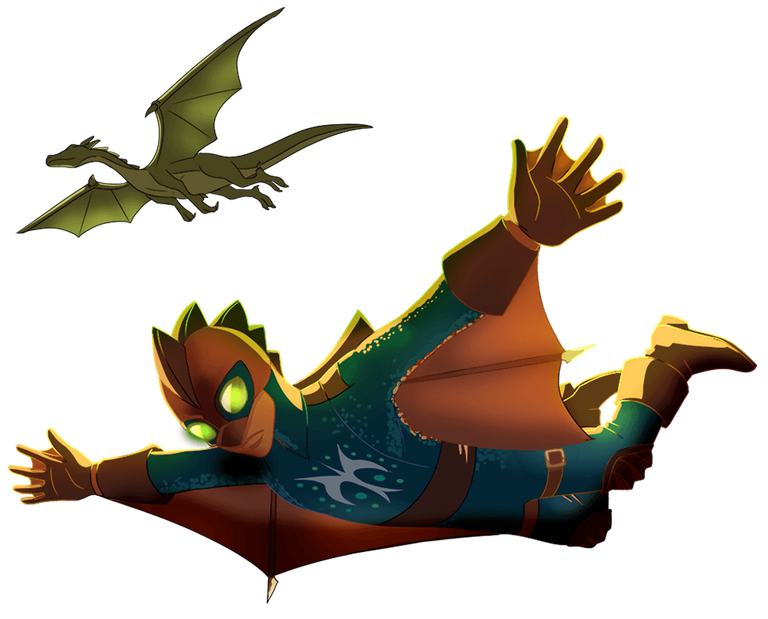 This legendary warrior is the King of Opportunity monsters. Most of the time, he always enjoys the first strike advantage, which is enough to turn the direction of the entire battle as we will see in this fight.
Last Position: Soul Fiend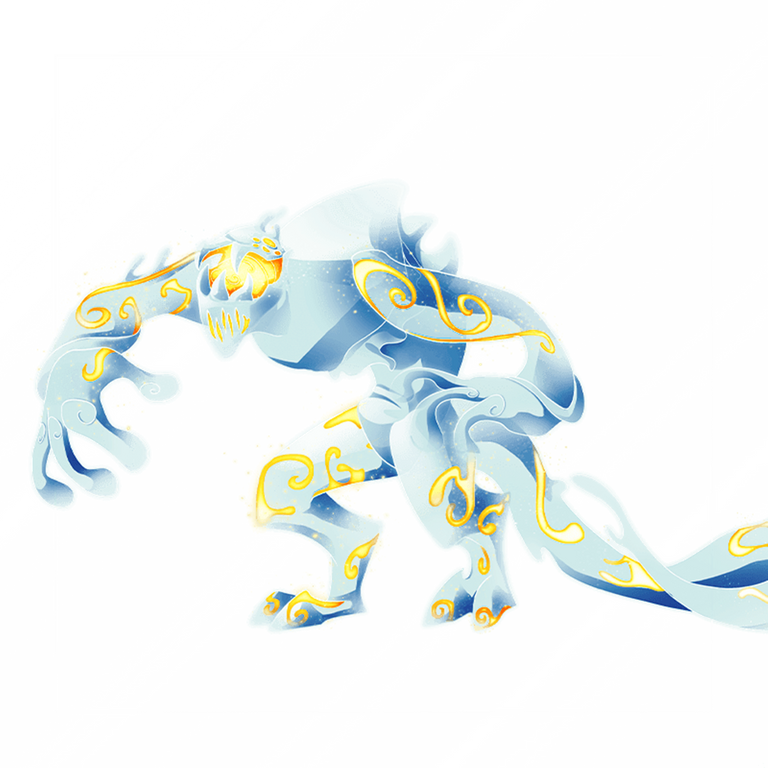 Soul Fiend is just a distraction, a way to protect Dragon Jumper.
Battle Results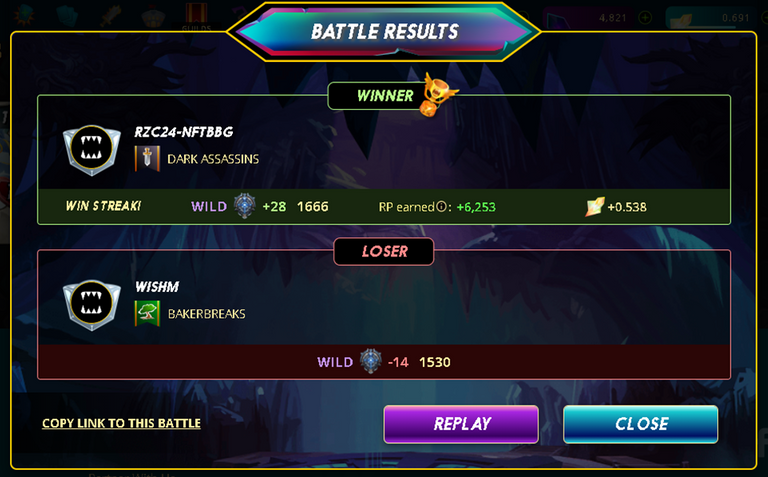 This is a fight between the combined forces of Water and Neutral Splinters against the combined forces of Dragon and Life Splinters. This battle lasted only for two rounds.
First Round
With his first strike, Dragon Jumper eliminated Creeping Ooze. The goal of the other player to reduce the speed of my warriors has been overthrown in just a single first blow.
Silvershield Assassin attacked Axemaster next and thereby reducing the health of the water warrior to just two. This would make him vulnerable to the next Sneak Double Striker in my team.
With the combined attack of Carnage Titan and Robo-Dragon Knight, Torhilo the Frozen, the tank of the enemy has been annihilated.
Dhampir Infiltrator completed the destruction of Axemaster that Silvershield Assassin has started.
The enemy's camp retaliated by demolishing my tank through the combined attacks of Gargoya Devil and Sea Monster.
Sandworm ended the first round by killing Soul Fiend.
Second Round
Dragon Jumper avenged the loss of Robo-Dragon Knight by destroying Gargoya Devil.
Silvershield Assassin continued the slaughter by crushing Sandworm.
The battle ended with the joint attack of Carnage Titan and Dhampir Infiltrator exterminating Sea Monster.
With these three Double Strikers on your team, the battle appears very easy. Have you tried using one of them? How's your experience?
Thanks for reading!
Curious about Splinterlands? Try it! It's fun! Check this link.
Grace and peace!
---
---