A bed time story am reading for my daughter.
Some time ago, in a land loaded up with enchantment and marvel, there carried on with a sweet child young lady named Lily. Lily had the most gorgeous grin that could light up even the haziest of days. Consistently, before sleep time, her caring guardians would assemble around her lodging to recount her accounts.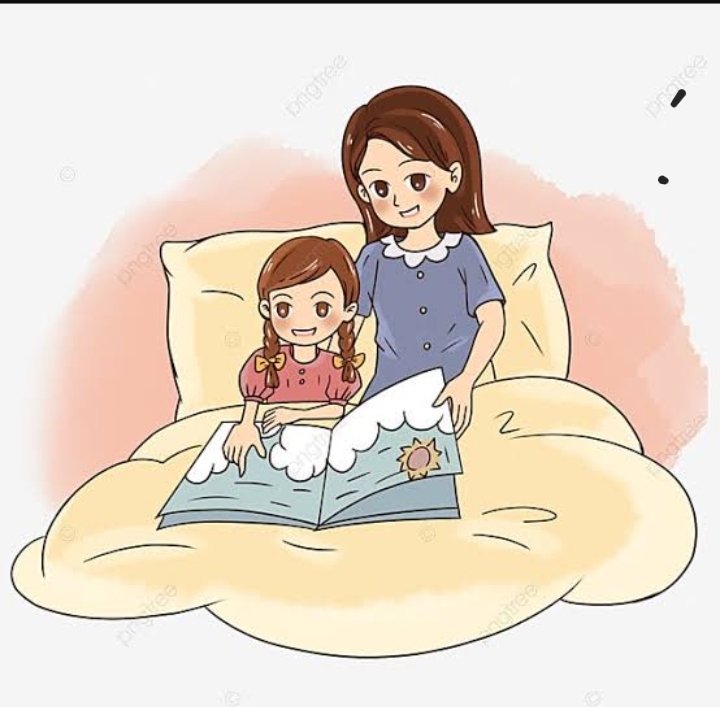 This evening, as the moon cast a delicate shine through her window, Lily's mom started a story about a cordial unicorn named Shimmer. Shimmer had a coat as delicate as a cloud and a horn that shone like the stars in the night sky. She resided somewhere down in the Charmed Backwoods, where the trees murmured mysteries to the animals that called it home.
At some point, as Shimmer was investigating the woods, she met an energetic rabbit named Cotton. Cotton had the mildest fur, and together they turned into the best of companions. They went through their days chuckling and playing, and every evening, they would lie under the stars and offer accounts of their experiences.
As Lily's mom proceeded with the story, she laid out clear pictures of Shimmer and Cotton's mysterious world, where the streams shone with rainbow tones, and the blossoms sang the best bedtime songs. It was a spot loaded up with adoration and joy.
Lily tuned in with wide eyes, her creative mind hitting the dance floor with the pictures of Shimmer and Cotton's experiences. Before long, her eyelids developed weighty, and her small yawns occupied the room. With a kiss on her temple, her folks wrapped her up, and Lily floated off to rest, longing for otherworldly unicorns and charmed woodlands.
Thus, in the delicate hug of her fantasies, Lily ended up in the charming universe of Shimmer and Cotton, where consistently was another experience, and consistently was overflowing with bliss. What's more, as the stars above gleamed with their sleep time wishes, Lily dozed sufficiently, realizing that adoration and wizardry would constantly be a piece of her reality.
 <br/> _This report was published via Actifit app ([Android](https://bit.ly/actifit-app) | [iOS](https://bit.ly/actifit-ios)). Check out the original version [here on actifit.io](https://actifit.io/@topworlds/actifit-topworlds-20230908t222222885z)_ <br/> <br><img src="https://cdn.steemitimages.com/DQmXv9QWiAYiLCSr3sKxVzUJVrgin3ZZWM2CExEo3fd5GUS/sep3.png"><br><table>    <tr>        <img src="https://actifit.s3.us-east-1.amazonaws.com/ACTIVITYDATE.png"> </tr>   <tr>        <div class="text-center"><b>08/09/2023</b></div>    </tr></table><table>    <tr>        <img src="https://cdn.steemitimages.com/DQmRgAoqi4vUVymaro8hXdRraNX6LHkXhMRBZxEo5vVWXDN/ACTIVITYCOUNT.png"> </tr>   <tr>        <div class="text-center"><b>11760</b></div> </tr></table><table>    <tr>        <img src="https://cdn.steemitimages.com/DQmZ6ZT8VaEpaDzB16qZzK8omffbWUpEpe4BkJkMXmN3xrF/ACTIVITYTYPE.png">  </tr>   <tr>        <div class="text-center"><pre><b>Daily Activity, Walking</b></div></pre></div>  </tr></table><div class="text-center"><img src="https://cdn.steemitimages.com/DQmNp6YwAm2qwquALZw8PdcovDorwaBSFuxQ38TrYziGT6b/A-20.png"><a href="https://bit.ly/actifit-app"><img src="https://cdn.steemitimages.com/DQmQqfpSmcQtfrHAtzfBtVccXwUL9vKNgZJ2j93m8WNjizw/l5.png"></a><a href="https://bit.ly/actifit-ios"><img src="https://cdn.steemitimages.com/DQmbWy8KzKT1UvCvznUTaFPw6wBUcyLtBT5XL9wdbB7Hfmn/l6.png"></a></div>
---
---