Rare Pepe from 2016-2018 Just Got Verified On OpenSea!
Seven years after the Pepe wallet, they are now verified on the ethereum blockchain by OpenSea.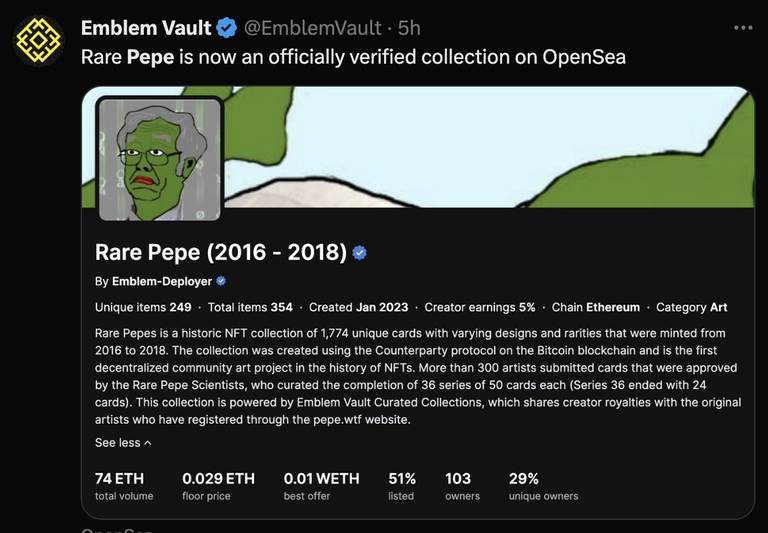 source
Rare Pepes is a historic NFT collection of 1,774 unique cards with varying designs and rarities that were minted from 2016 to 2018. The collection was created using the Counterparty protocol on the Bitcoin blockchain and is the first decentralized community art project in the history of NFTs. More than 300 artists submitted cards that were approved by the Rare Pepe Scientists, who curated the completion of 36 series of 50 cards each (Series 36 ended with 24 cards). This collection is powered by Emblem Vault Curated Collections, which shares creator royalties with the original artists who have registered through the pepe.wtf website.
These Rare Pepes made history many years ago as one of the first examples of NFTs on blockchain by even being on the bitcoin blockchain with help of the Counterparty protocol. Made by many artists like some projects today and proving to be very collectible. Part of the idea was to possibly get some to have for sale, and/or to give away at times. Maybe to be part of a Pepe token portfolio.
Of the 1,774 original Rare Pepe there are a total of 271 unique items of them that are currently vaulted on the ethereum blockchain. With a total of 380 items and a total trading volume of 77 ETH. Just over half of them are listed (56%) while being owned by 109 blockchain wallets resulting with 29% unique owners. The current floor price is 0.039 ETH and a best offer of 0.02 WETH. This collection was created back in January. Great to see it reaching verified status.
Little peak at some of the Rare Pepes on OpenSea: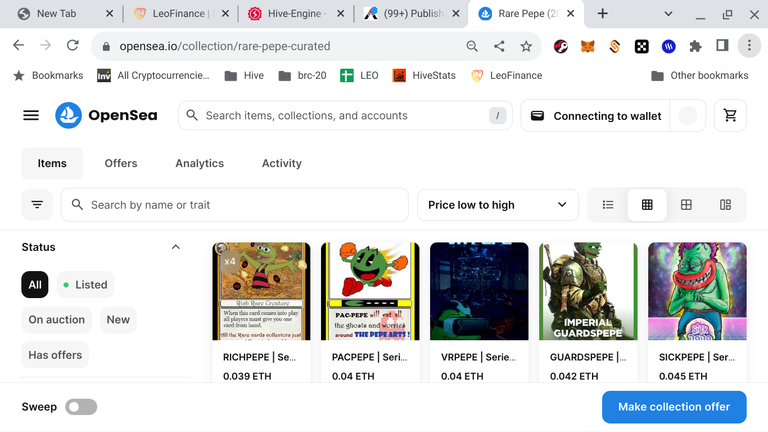 Feels Good Man!
notification list (comment to be added): @ganjafarmer
$PEPE Hive Engine - LeoDex - TribalDex
$PEPECASH Hive Engine - LeoDex - TribalDex
$RPEPE Hive Engine - LeoDex - TribalDex
Pepe Token Community Ecency - LeoFinance - PeakD
---
---